KIND's Boston office was thrilled to receive generous donations for KIND clients from staff at Chin & Curtis, LLP – and just in time for the holidays! From diapers to winter scarves and hats to CVS gift cards, these items are vitally needed by immigrant and refugee children referred to KIND and their families.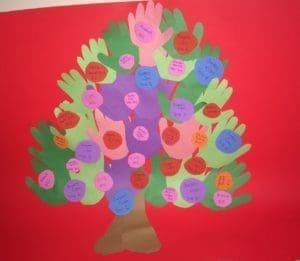 "We know and love KIND from the years we used to host them in our offices in Boston," said Chin & Curtis Communications & Reporting Coordinator Olga Leikauskas,  "We were very happy to have KIND and were sad when it outgrew our space—but very glad  that KIND gained more lawyers to help more children."
Leikauskas led the KIND effort at Chin & Curtis as part of the firm's "C&C Cares",  a program initiated by Chin & Curtis in 2016 to enable the firm's staff participate in charitable projects.
"At Chin & Curtis we know how important it is to support children who need representation in immigration court," Leikauskas said. "We really enjoyed greeting the young KIND clients who would come into our offices to receive help."
In addition to spearheading the donations for KIND clients, Leikauskas added her own personal touch. She created a "Donation Tree" with her own two young children by tracing their hands on construction paper and creating "leaves" for the tree and paper ornaments with gift ideas.  Her children also made a "Donation Menorah" and candles with suggested gifts. Staff at the firm picked items to buy and delivered them to KIND's office.
"Chin & Curtis has never hesitated to provide KIND's Boston office with support when asked," said Marisa Howe, KIND Managing Attorney. " From the C&C cares program to hosting KIND's offices when we were just starting out to providing meeting space for recruitment presentations to solo immigration practitioners in the area, KIND is incredibly appreciative of Chin & Curtis' support of our work."