I encountered these tw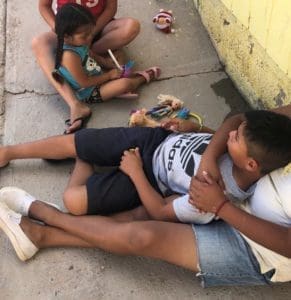 o migrant children and their young mothers finding refuge in one of the few shady spots at the migrant shelter in Ciudad Juárez where they had been living for weeks when I visited in July 2019. With the temperature in the upper 90's, and the relentless sun beating on the compound of sparsely furnished buildings surrounding a dirt courtyard, they sat quietly, the girl playing with the few tiny dolls in her possession as her mother braided her hair. The boy and his mom huddled together, with shy smiles in a surreal demonstration of hope in the most austere and oppressive of conditions.
Like thousands of individuals, many of them families with small children, they have been forced to wait in Mexico until their asylum hearings are held in the U.S. For many the wait will span over six months, with hearings now scheduled in the El Paso Immigration Court well into the year 2020. In the meantime, their endurance, resolve, faith, and ability to survive are being tested in shelters that are not equipped to meet their needs. This particular shelter, though hospitable to the migrants, lacks child friendly spaces and is not able to offer enough food, health screenings, or other social and legal services support for the families, many of whom have not only enduring exceptional hardship during their journey north but have survived violence and persecution in their home countries.
As a result of the Administration's policy of forcing people back into Mexico while they wait for their asylum hearings, Migrant Protection Protocols, these children and their young mothers now remain in unsafe, dangerous, and unsanitary conditions. They face the impossible task of staying alive and preparing complex asylum applications in English, on their own while scavenging for food, enduring illness, and deciding whether waiting for their hearing is less risky than the nearly unthinkable choice of returning to their home countries where they may face persecution, and even death. Families with small children are bearing the brunt and the cruelty of the Administration's policies. We need to end this needless suffering.