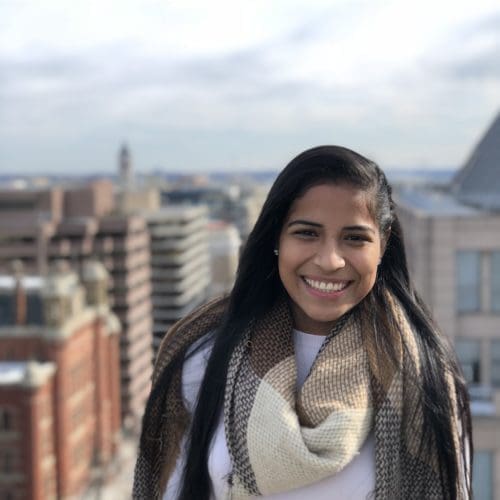 Good evening. My name is Alejandra Valdez, I am from El Salvador and I am a High School Senior in Washington DC. I am here tonight first of all to thank KIND and all of you for being our angels of hope and for letting us make our dreams come true.
Three years ago, my then ten-year old brother and I traveled from El Salvador to Washington, D.C. with just the clothes on our backs, an extra pair of shoes, and passports in hand. We made the dangerous journey to reunite with our mother after a 10 year separation. She came to the U.S. looking for better opportunities for us. Over the years, living in my home country began to be a challenging life experience due to increasing gang violence. It was because of this, that we decided to leave our country.
When we arrived, my mother looked for help in many different organizations. None of them were willing to help us, but fortunately, my mother learned about KIND. Our experience with KIND was wonderful! They listened to us, and most of all, gave us the assurance that everything was going to be ok. Shortly after, we met my lawyer, Lucero, who has been our guardian angel. She helped us through the entire legal process, went with us to court, and has helped us with school. Today, Lucero continues to be an essential partner to me and my family and I am very grateful for her and all the work that she, and KIND, has done for us.
Lucero also gave me the courage to know that I would be able to make my dreams come true one day. When I arrived from El Salvador, I only spoke the beautiful language of Spanish. The first and most difficult barrier that I faced was to learn the English language. Being an English speaker was not only a personal goal, but a necessity.  From going to the store to translating important documents for my mother, I knew I needed to master the English language.