Back in June, KIND clients from the Newark office gathered for a special event, Healthy Food on a Budget. Youth ages 14 to 21 gathered with a chef at Little Fox Kitchen, a culinary event space, to make homemade tortillas, guacamole, and cilantro sauce to create delicious tacos. After the cooking lesson, the clients talked and laughed as they enjoyed their meal in a family style seating. The kids had a great time—they devoured the tacos and many of them made new friends and connections as they exchanged social media accounts. Senior Social Services Coordinator Helen Diaz described the joy of seeing kids socializing, joking, and having a good time. She even noticed some of the clients she has worked with who are usually shy talking with others and making new friends.
The cooking class was the concluding event of KIND's Newark office Wellness Summer Series, which was comprised of mostly online activities and workshops for clients to kickstart their summer. The goal of the series was to teach participants how to engage in healthy summer activities. In addition to the cooking event, sessions included mindfulness and wellness activities; workout classes with exercises that can be done at home with everyday objects; dance; and trauma-informed yoga. Kids also participated in a raffle and took home various prizes such as journals, exercise equipment, and magic bullet blenders to encourage them to continue their healthy summer at home.
Another highlight of the series was a session on mindfulness and emotional wellness led by Mario Narcisco Avila Melgar, a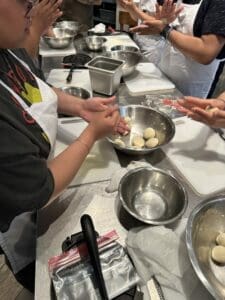 Social Services Coordinator at KIND's Ciudad Juarez office. Mario led the kids in a "wheel of life" activity, through which kids reflected on the different parts of their lives such as school, family, and love, to see which areas they felt satisfied with, and which areas might need some more love and attention.
"After the events, our hearts were so full," said Senior Social Services Coordinator Fiorella Avalos. "It was awesome to see so many clients out enjoying themselves and socializing with each other. We were also able to get their ideas for future events and what kinds of events they would like to see. Many kids agreed that the next event should be a ramen cooking class!"
Congratulations to KIND's New Jersey office for putting together this wellness series to help our clients adjust and thrive in their new lives.
Learn more about KIND's Social Services program, here.