Every April 30, Mexico celebrates Children's Day (el Dia del niño y la niña). In honor of this day, KIND staff in our Tapachula office, near the Mexico/Guatemala border, held a series of activities with migrant children at three shelters. The office provides legal education and psycho-social services to unaccompanied children at the shelters, most of whom are from El Salvador, Guatemala, and Honduras.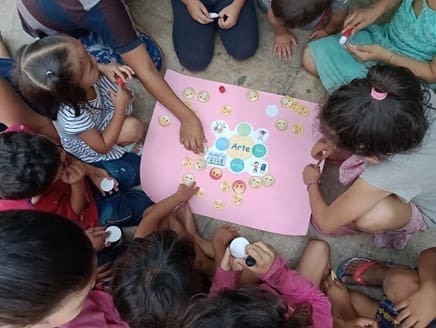 For Children's Day this year, KIND staff in Tapachula organized and led a special celebratory activity focused on art as a tool for emotional expression, coping, and well-being. A group of   kids ages 5 to 17 gathered on a Wednesday afternoon at the shelter. Ernesto Silva, a KIND program assistant began the event by asking the children, "How does art—painting, drawing, dancing, listening to or playing to music—make you feel?" The children responded out loud by selecting an emoji face from a pile of cutouts to express how art makes them feel.
Then, each child received a white cotton backpack to paint. Kids used paints and colored pencils to decorate their bags. Some drew animals and houses, while other kids painted abstract images with blurred colors. For kids who did not know what to draw, KIND staff provided stencils of cats, flowers, moons, and stars. Kids chatted and laughed as they painted, each expressing their individual creative style. KIND staff put music on, and some kids danced as they drew.  
KIND staff walked around, praised the children's work, and led them through a conversation about how art and creativity are tools for emotional expression and processing. Facilitators encouraged the kids to reflect on how they can use these kinds of creative activities to express what they feel or help them relax after a stressful event. "What can you do when you feel sad?" Ernesto asked. "If you make a mistake on your bag, what happens? Absolutely nothing! It's fine. That's ok. Making mistakes is part of the creative process."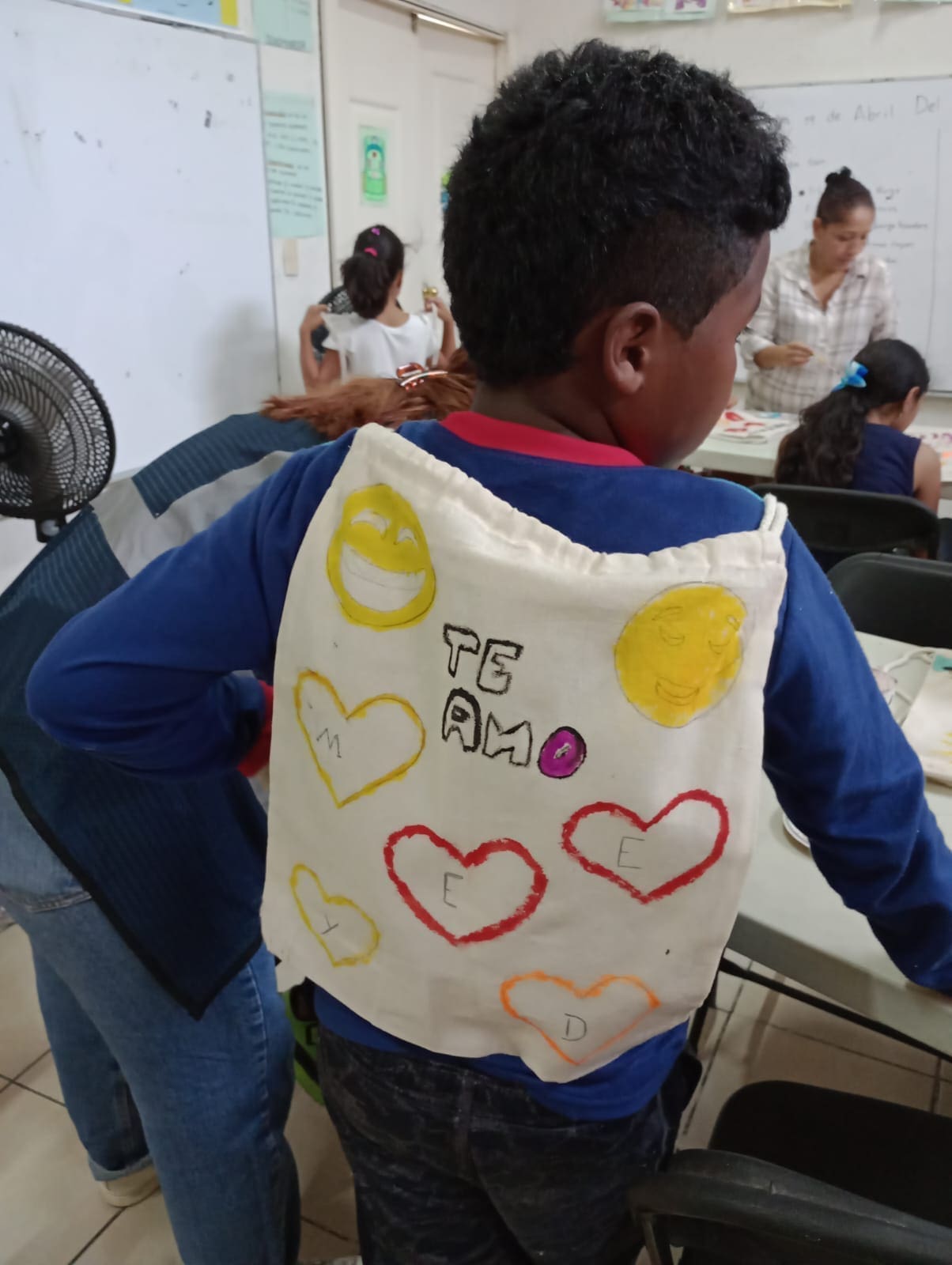 After completing the bag decoration, KIND staff surprised the kids with a piñata. The children laughed and yelled as they took swings to unleash the candy within. Seeing these kids, many of whom have gone through difficult and traumatic experiences, laugh and experience joy, makes clear the importance of KIND's work. To conclude, KIND staff gave a gift bag to each child, which contained a coloring book, a notebook, pencils, toys, and snacks to put in their new bags. 
The event was a success and, like all the KIND staff activities at shelters, combined play and fun with psycho-social-emotional support and learning for kids. On Children's Day, we celebrate these spaces where kids can be kids, and the KIND staff who make this possible by designing and leading sessions that are fun, educational, and impactful. ¡Feliz día del niño y de la niña! (Happy Children's Day!)