It has been one year since the Trump Administration closed the border to asylum seekers and unaccompanied children. While the Biden Administration has announced that they will not expel children who reach the United States, children who come to the border on their own to seek protection still risk being turned away because the border crossings remain closed.
It also has been one year since we launched KIND Mexico to serve and advocate for migrant children in the country. The timing was propitious as it allowed KIND to help hundreds of children expelled from the U.S.-Mexico border as well as those facing challenges presenting themselves to U.S. officials to ask for protection on their own.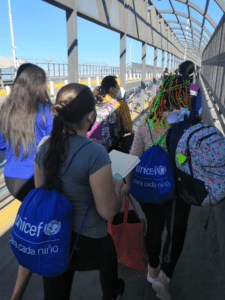 For example, last month, KIND assisted three young siblings from Honduras who, after traveling to the border with their mother to seek protection, were suddenly and tragically orphaned and stranded in a dangerous border town. KIND was contacted about these children and began speaking with their grandmother, who lives in the United States and was desperate to be reunited with her grandchildren. Through KIND's zealous legal representation and advocacy, the children were able to present themselves at a border crossing and ask for protection.  They were quickly transferred into the care and custody of child welfare professionals with the Office of Refugee Resettlement to await release to their grandmother.  KIND's assistance guaranteed a safe, fair process and helped the children avoid a more dangerous crossing.
An increase in gender-based violence and gang violence in Central America during COVID-19, coupled with unprecedented levels of food insecurity following COVID-19 and the hurricanes that ravaged the region late last year, are all driving more children to flee.
Providing a Range of Services
With a team of attorneys, social workers, and other advocates based in Mexico and along the U.S.-Mexico border, KIND Mexico offers legal assistance, social services, counseling, and other resources. KIND Mexico's social work staff have created a series of videos for children in migrant shelters who are awaiting the next steps of the process to help them better cope with the stressors of migration.
KIND Mexico has also engaged in monitoring, training, and policy and advocacy. This work was instrumental during the initial stages of the Trump Administration's Title 42 policy expelling all unaccompanied children from the United States without any concern for their safety. In the year that the policy has been in place, KIND has provided dozens of trainings, lending our expertise to international and government officials in Mexico explaining how the policy impacted children.
KIND Mexico monitored expulsions and raised the alarm about the dangerous conditions and locations of certain expulsions, supporting Mexican officials' efforts to better serve children and mitigate harm from the policy. Importantly, KIND Mexico also advocated to end this policy, ultimately securing protection for unaccompanied children from Title 42 expulsions. KIND Mexico continues advocating with the U.S. and Mexican governments to work together to ensure the safety of migrant children as they travel and seek protection.
Helping Families Trapped in "Remain in Mexico"
KIND Mexico's anniversary also coincided with the long-awaited rollback of the Migrant Protection Protocols (MPP), a Trump Administration policy that did nothing to protect migrants, but instead forced them to "Remain in Mexico."
KIND staff in Juarez, Mexico, had been working with families stuck in MPP for over a year and a half and were able to welcome some of the first families allowed to cross the border. These families included a mother with her three young sons who had been assaulted at a migrant shelter while made to wait to apply for asylum in the United States. KIND staff provided social services to these families, flagged their cases for expedited processing, accompanied them across the border, and helped connect them with legal services in the United States.
Watching the United States finally welcome these families after subjecting them to so much suffering was emotional and an encouraging step forward. But we need to do more, particularly for vulnerable children.
While U.S. President Biden had taken the first step in unwinding MPP, there are thousands of families and individuals still waiting in Mexico, braving increasingly dangerous conditions, and unsure of what comes next. KIND Mexico has been in contact with countless children still struggling to enter the United States to seek protection.
U.S-Mexico Cooperation Essential to Protect Migrants
It is essential that the U.S. and Mexican governments come together to immediately protect the most vulnerable migrants, especially unaccompanied children. For the United States, that means ending Title 42 and upholding the Trafficking Victims Protection Reauthorization Act (TVPRA), the federal law that protects migrant children and allows them to arrive at border stations and ask for protection. For the Mexican government that means respecting the rights of asylum seekers and children to migrate and seek protection and to fully implementing recent legal reforms that guarantee appropriate care and best interests determinations for every unaccompanied child in Mexico. Both countries must work to guarantee counsel to children in immigration proceedings and increase services for migrant children.
With increasing numbers of children and families coming to the U.S.-Mexico border to seek protection, we need cross-border coordination and cooperation to ensure that unaccompanied children are treated fairly and in accordance with the law. KIND Mexico stands ready to help and will continue its work to protect children on both sides of the border.
To learn more about KIND Mexico, visit our website: supportkind.org/what-we-do/international/kind-mexico/