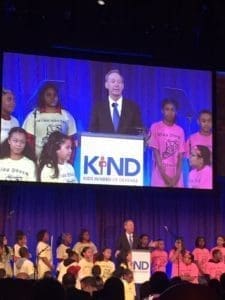 Children were center-stage at KIND's 2017 Coming Together for Children Alone Annual Gala, where 350 KIND supporters and other friends from across the country celebrated the dedication of partner firms and corporations which have donated thousands of hours of their time to represent unaccompanied children in deportation proceedings. All the honorees provided extraordinary assistance to these children and helped ensure they had a fair chance to gain U.S. protection. Exelon Corporation received KIND's Innovation Award; KIND's Allegiance Award was given to three outstanding law firms: Latham & Watkins, Munger, Tolles, & Olson, and Proskauer Rose.
As the evening's Emcee, MSNBC Chief Legal Correspondent Ari Melber said, "We are honoring people who are stepping up to the challenge, advocates who personally represent immigrant and refugee children; humanitarians who support that work, and the children themselves, who have met adversity with the kind of courage and dignity that should set an example for many adults who have far more advantages."
Six high school students who are participating in KIND's Voices That Matter Most project—four from Central America, one from Eritrea, and one from Afghanistan—shared difficult stories about the fear that drove them out of their home countries and the challenges they faced once here. They also told of their significant accomplishments, dreams for the future, and the importance to them of sharing their stories with others.  As one of the students so eloquently said, "We want to use our stories for good to help people understand that we are valuable people, too, and can help make this country a good place for everyone, wherever you are from."
The world-famous PS22 Chorus complimented the Voices' students' stories with their own terrific singing voices, performing three songs from their impressive repertoire.
KIND Board President Brad Smith talked about KIND's mission. "When we joined with Angelina Jolie almost ten years ago to talk about creating an organization together, it was grounded in one simple belief—every child deserves a fair chance," he said.  "The strength and resilience of the kids with whom KIND works know no borders.  The magic of childhood should not be defined by a line in the sand."
Smith and KIND President Wendy Young presented the Innovation award to: Tom O'Neill, Senior Vice President and General Counsel, Exelon; and the Allegiance Awards to Matthew Thurlow, Counsel, Latham & Watkins; Adam Lawton and Josh Patashnik, associates at Munger, Tolles, & Olson, and Bill Silverman, Partner, Proskauer Rose.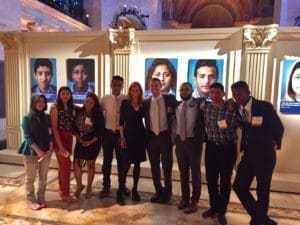 Jane the Virgin actress Azie Tesfai gave the evening's keynote speech. She described the many efforts her mother made to try to stay in United States and not be returned to Ethiopia and the war there. After working very hard and exhausting all the options she could access she was about to return, when a woman at a hospital where she worked helped her find and pay for an attorney. As Azie said, "I don't think anyone would have guessed that she would eventually start one of the first mental health clinic facilities in the U.S. and expand nationally, providing extensive medical treatments and employing thousands of Americans.
"As I listen to my mom recount her journey here, I see that even she is shocked by the manifestation of all of her blessings in this country, that all started with that one woman who hired her and backed her getting an attorney to stay.
"All of the opportunity I've been allotted in my life, my career, daily freedom of choices, all come from a fortuitous series of events with my parents managing to come here and most of all staying here. As the only member of my family, for most of my life, born in this country, I've always known what a massive blessing that is."
View more photos from the event here.
Watch videos from the event here.