I've met dozens of unaccompanied children in my 2 years working at KIND. As part of my job, I conduct intakes with unaccompanied children referred to KIND to learn their stories and to help KIND assess options available to remain in safety in the United States.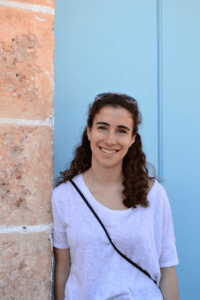 I often think of Ana, a 16-year-old girl from El Salvador who I met with the day after President Trump was elected in November 2016.  No one knew  at that time what the future held for immigrants, certainly not Ana, who had come to the United States just two months earlier seeking safety.
Ana impressed me. Of all the children I have worked with, Ana was among the most mature and articulate about the very difficult circumstances that led to her flight. Even through a recounting of the hardest moments of her life, Ana remained engaged and calm.
Ana's mother passed away after a long illness when Ana was a toddler. She was raised by her father and her stepmother.  Ana's father encouraged her to study hard, always helped her prioritize her homework, and supported her dream of becoming a doctor. Ana had entered a Medical Certificate program in school, setting her on track to medical school after high school. The family went to church together every weekend.
Just months before we met, Ana's father had passed away. Even in talking about her father's death, Ana kept her composure. She explained how her father's death left the family struggling, emotionally and financially. Ana's stepmother became very ill after her husband's death and could no longer be a caregiver for Ana. Without anyone to care for her, Ana left El Salvador by herself to find family in the U.S.
At the end of the intake, I always ask clients, "Do you have any questions for me?" Generally, children do not. They are facing a legal system they barely understand in a language they are just beginning to learn. After a few moments of silence, Ana said she did have a question. She said, "My teacher was crying in class this morning. Why was she crying?"
I imagined her teacher, standing in front of a room of students, presumably many immigrant students, trying to explain what the election results might mean for them. Now I was in the same position. I was sitting across from a promising teenager who'd come here to find safety and family, unable to confidently say anything about what the future would hold. Her fate felt entirely out of my hands that day.
It's been a little over a year since I met Ana. I'm sure she has no idea how much of an impact she had on me. Ana's life story was heartbreaking and her family situation was challenging.  Yet, she remained driven to be the best daughter, student, and person she could be. Ana was selfless when she talked about her dreams for herself and those around her. She wanted to become a doctor not because it was a good career, but because she wanted to help others. Ana made an impact on me because of how, in spite of all the forces pushing her down, she had been able make it this far. I could see in the way she carried herself and the way she spoke that she was not going to let anything get in her way.
All year, I've been keeping my eye on her case, watching as she and her pro bono attorneys worked together to file an application for relief from deportation. Ana is now waiting in line for a visa to become available so that she can apply for her green card. One day, she could be a U.S. citizen.
While the future for immigrants in the United States is more precarious than it has been in a very long time, my colleagues and I at KIND will continue to fight for what is right. We remain firm in our belief that Ana, and children like her, deserves a fair chance to seek safety in the United States. Her success so far affirms that we cannot be discouraged by the many challenges we face and that we must do all we can to ensure that every immigrant and refugee child in the U.S. can access justice and safety.
Emma Israel is a paralegal in KIND's Boston office.