The Central Valley: foggy winters, hot summers, taco trucks, colorful murals, vast picturesque landscapes, towns separated by miles of fields with nothing in between. People work under the sun. Their hands moving fast and methodically as they pick the food that will feed the world. Spanish music flows through the air and they yell jokes across the rows of the fields to forget about the pain and exhaustion caused by the work. Their laughter and singing is carried by the wind and you can hear what hope and dreams sound like.
I grew up in Orosi, a small un-incorporated town in Tulare County, California about 45 minutes southeast of Fresno. My parents brought me to the United States from Mexico when I was 3 months old. I grew up undocumented in a community of immigrants where it was tabooed to talk about being undocumented.
Much like this current administration, in the early 1990s, California was largely anti-immigrant. In fact, Prop 187 was passed in 1994, which prohibited undocumented immigrants from accessing non-emergency medical care, public education, and other social services. I have vivid recollections of being a sixth-grader when most of the students in my middle school marched off-campus in a display of anger and protest. We often heard of raids. I was advised not to talk about my status for fear of being deported.
The law was later found to be unconstitutional but the anti-immigrant sentiment remained and I had to learn to live in the shadows and survive without status. I managed to go to college and graduated in 3 years to save money. It was in college that I decided that enough was enough and I learned to use my own story and experience to organize and advocate for laws that would help me and other immigrants with issues like paying in-state tuition, getting drivers licenses, and the DREAM Act.
Deferred Action for Childhood Arrivals (DACA), initiated by President Barack Obama in 2012, gave me the chance to live without fear of deportation, get a driver's license, buy a home, and do other things that many people take for granted. It also gave me the opportunity to apply for jobs that aligned with my passion to work with immigrant youth to help them overcome some of the same difficulties that I faced.
These past 3 years, I have been fortunate to work for Kids in Need of Defense (KIND). As a Social Services Coordinator in our Fresno office, I cover eight different counties in the Central Valley that are largely rural and one of the most underserved areas of California.  Our clients face transportation challenges, food scarcity, and housing instability. Their sponsors often work in the fields and struggle to make ends meet. The youth also face a wide range of socio-emotional challenges as they grapple with trauma and face acculturation challenges. My job is to help them connect to resources in their communities. I have worked with close to 200 children and continue to help many of them. I am so happy to see their growth throughout the years and the impact of having their KIND team be a source of support and encouragement well beyond their legal cases. Clients have shared that they know that despite how hard things get that they can always count on us. They call us during bad times and good times to celebrate getting a driver's license, graduating from school, or winning their cases.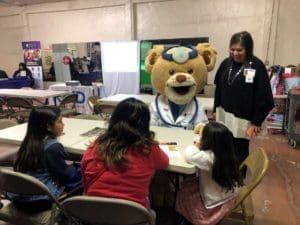 Every year I also organize 3-4 resource fairs in different communities in the Central Valley and invite local services providers, including health centers, schools, mental health services providers, and shelters to talk to our clients about their services. We hold workshops on mental health, culturally based healing practices, financial literacy, civic engagement, and healthy relationships. Our attorneys provide an interactive Know Your Rights presentation. Families go home with food, toys, jackets, and books. My team and I pour a lot of love into these events and work hard to make them meaningful. I love watching families walk out with smiles on their faces, feeling empowered and valued.
I know firsthand that being undocumented can feel lonely and overwhelming. When you are busy surviving, it is sometimes hard to stop to see what you have accomplished and acknowledge how strong you truly are. Sometimes it takes others believing in us more than we believe in ourselves to remind us of our power. I am grateful for the opportunity to be one of those people for my clients.
America Hernandez is the Social Services Coordinator in our Fresno field office