We talked with KIND's senior attorney, Lauren Sullivan on honoring Citizenship Day and witnessing her client become a U.S. citizen.  
How did it feel for you to work on your client's case?
Helping an unaccompanied child gain citizenship was a unique and immensely satisfying experience. Naturalization is the ultimate form of protection and stabilization. Applying for U.S. citizenship is a choice that many legal permanent residents never make due to complicated immigration histories or personal preferences. While I mostly work at the initiation of a case trying to help unaccompanied children gain protection in the United States, it was a true honor both personally and professionally to be a part of my client's final step in her journey to seek safety in the United States.
What was your client's reaction upon receiving the news that she had obtained her citizenship? Your reaction?
Both the client and I were sitting on the edge of our seats during the entire interview.  My client spoke in English and answered all her civic and history questions correctly.  We both burst into tears when the officer announced that he was granting her application for citizenship and scheduling her oath ceremony for the very next day.  The focus and seriousness of the interview quickly turned into a joyful celebration.
How is this going to change her life?
Citizenship is truly the full legal completion of her immigration journey.  She is now a citizen of the United States.  She now can vote and travel freely without risk of deportation. She can go to sleep every night knowing that the country that she sought refuge in after a long and difficult journey is her permanent home.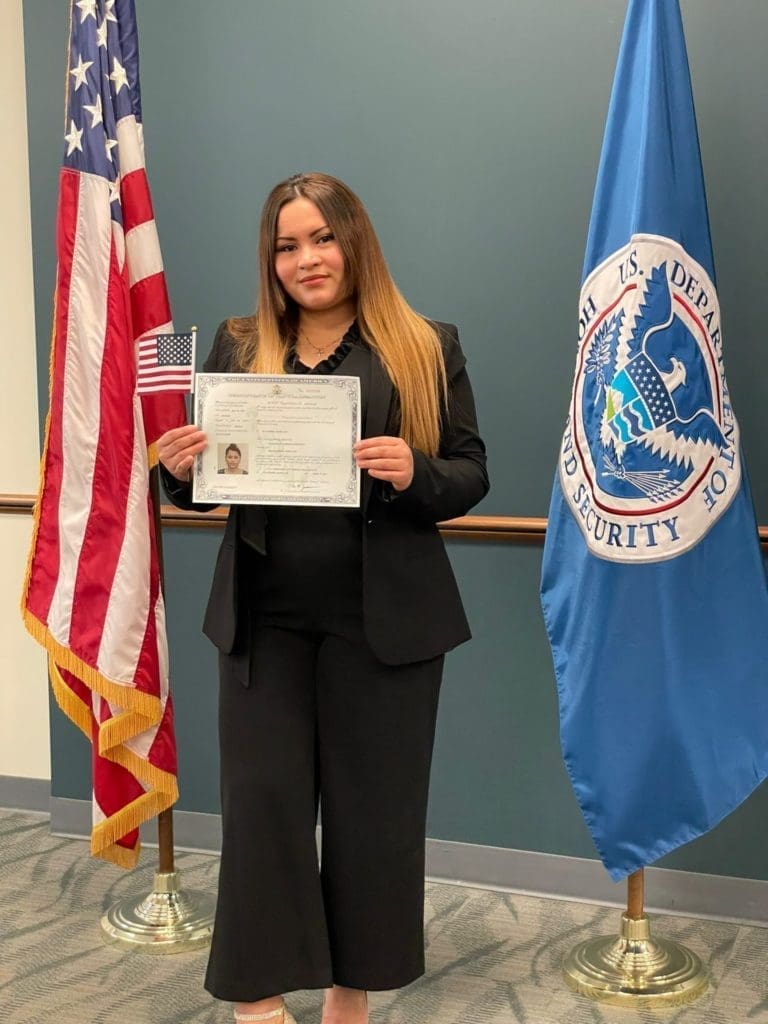 What does citizenship mean to your client?
Citizenship is the security and stability my client was looking for when she first fled from her home country 10 years ago, alone, and only 15 years old.  As an unaccompanied child, she left a life of significant trauma and hardship.  Her U.S. citizenship means we can truly close her immigration case file and she can focus on the life she is building here in the United States.
What are her hopes and dreams for the future?
My client demonstrated so much resilience and determination long before my involvement in her case.  She came to the United States determined to overcome the traumas of her childhood. She successfully graduated high school. She has a loving family and is raising a brilliant and feisty 3-year-old child.  She now spends her time busy with her own cleaning business that she started with her partner.  I believe she is actively living her hopes and dreams she had for her future.