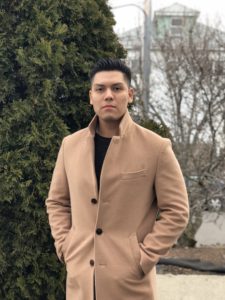 I was born in El Salvador. My mother, who I did not really meet until the age of 13, gave birth to me in one of the most dangerous states of the country.
My parents decided to flee the country because of death threats, the poverty that surrounds the country, and because it was hard to provide for the family; my mother left when I was 9 months old, my father soon after. I was raised by my grandmother and uncle.
Growing up in El Salvador I was always hearing stories of how the gangs threatened business owners and regular people to pay for their well-being and if they didn't, they'd pay with their lives. My friends who lived near the river would tell me how they'd find dead bodies floating around and how someone they knew was murdered by the gangs for the smallest things such as having a nice pair of shoes. This is something that still surrounds the country and if you report to the police, they won't do anything; gangs govern within the country.
I'd speak with my parents every Sunday and I'd tell them every detail of my life such as my friends, school, home, and what my friends and I have seen. Like any other parent would, they wanted me out of that environment.
My parents had tried to accomplish their "American Dream"  and bought a house in the U.S. but  ended up losing it during the 2008 market crash. A few years later, they decided to buy a house in El Salvador. The day the purchase was going to take place, my uncle was kidnapped. The gang that took him asked for the money that was going to be used to buy the house. Luckily, my uncle came out of that alive, but the money was lost, and the threats kept coming, only this time, I was the target. My parents got a call in the U.S. The person on the phone asked for a weekly payment for my safety. They knew everything about me such as the school I went to, what time I'd go in and out, and even the bus I'd take to school. This is when I knew I had to leave and go to the U.S. at age 13.
During this trip, I was close to losing my life 3 times. The first time, having to cross El Salvador and the Guatemala border I had to swim through a river with a very heavy current. Not knowing how to swim, I was dragged downstream and washed out along the shore unconscious. That's when I knew I had to take swimming lessons. When we crossed the Mexico border, the person who had guided us abandoned us. That was the start of how a   "7 – 15 days" trip became a 3-month journey.
Another time I almost lost my life was in Mexico, when gang members came to the place where we were staying.  At gunpoint, they asked me to get into their car. They asked me questions about my trip. For some reason, they then let me go.  I don't know what happened to everyone they took with them. God was with me that night and throughout the trip.
Fast-forward to when I was reunifed with my parents, who were complete strangers to me.  After a few days I was given information about attorneys who helped minors by offering legal advice, representing them in court, and guiding them through every step of the way in this long and complicated process. In other words 'KIND' provided me with a person that helped me change my life.
I had almost lost hope. Being undocumented, I had convinced myself that working hard through high school was unnecessary because I couldn't further my education. Luckily, I realized I was making a mistake and that school is important, particularly for me because of where I come from and the journey that me and my parents had gone through.
Ever since I learned the impact that the 2008 market crash had caused in my family and after moving to the U.S., hearing about the stock market and the opportunities it creates, I grew  interested in the field.
I decided to pursue a career in finance and joined a one-year program called 'Year Up' which provides students with college-level courses and a 6-month internship in top American companies including Wellington Management and JP Morgan Chase, which is where I interned from July of 2017 to January of 2018. I enrolled in the Investment Operations track and landed a job in the field with the degree Year Up provided me. This amazing opportunity will help me pursue higher education, advance my studies, grow my career, myself, and achieve goals that I have set for myself—goals which will change my life and my whole family's.
Thanks to KIND I can say this for myself, because of KIND I am able to believe in me, to strive for more, to engage in new things, and to dream again.
Alex gave the above speech at KIND's 10-year anniversary gala, watch the video below. 
Alex's Speech at KIND's 2018 Gala